2017-12-14 - "Double up: Inet voted Online Store and Retailer of the Year!"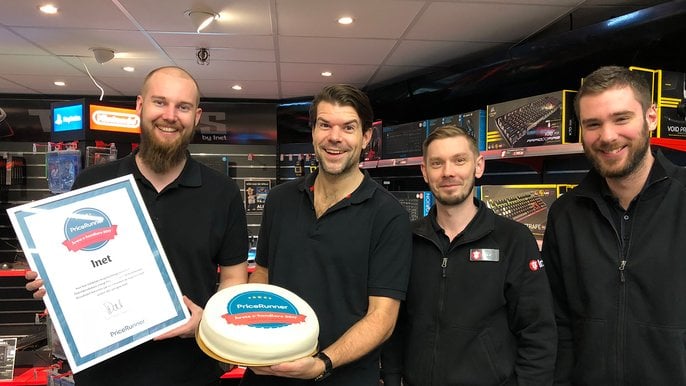 When Swedish customers get to choose their favourite online store, Inet comes out at number one. In November, Inet received its sixth award from Pricerunner as Online Retailer of the Year, and in December its seventh award from Prisjakt as Online Store of the Year. A wide range of the latest products at great prices supported by excellent customer service are the keys to Inet's success.
"We would like to thank our amazing customers, who clearly appreciate the service and products we offer. Our motto is If it's good for the customer, it's good for us. These awards give us motivation to work even harder", says Erik Wickman, CEO of Inet.
Every year, Pricerunner.se gives an award to the best Swedish online retailers, based on the customers' overall purchase experience. For six years in a row, Inet has won the award as Online Retailer of the Year in the Computer Products category.
"We work in a competitive business, with an increased focus on e-commerce and modern products. The fact that our customers keep giving us high ratings is truly a seal of quality."
In December Inet also received Prisjakt's award as Online Store of the Year in the Computers and Mobile category. This is the seventh award that the computer retailer has received from Prisjakt since 2010. The winner is decided by visitors to Prisjakt.nu, who vote for their favourite retailer. Over 5000 online stores participated in the 2017 competition.
"We have wonderful employees who are passionate about giving top notch service, and it's really they who deserve this award. The key success factor is always listening to the customers and understanding their expectations."
During 2017, Inet made improvements in its return policy and introduced same-day deliveries. The plan for 2018 is to expand the product line still further and to enlarge the customer service unit. Inet also intends to produce more videos on Facebook and YouTube, with product unboxings and visits to major manufacturers.
"We want to create a true omnichannel experience and become even better at interacting with our customers. Their feedback means everything, and we strive to create the best customer experience possible", says Erik Wickman, CEO of Inet.