Tillbaka till Inet Moddning
Justin beskriver sitt projekt:
The project is called Phase One, which is a mod project feature one of the most extreme PC enclosures in the world, the H-Tower from In Win, and some of the best enthusiast PC parts from ASUS, Corsair and Samsung for storage.
The goal of this project is to build an insane gaming/workstation beast that could tackle any task that I throw at it with ease and still have some muscle to spare. Phase One is a declaration of what a water cooled rig looks like with the inclusion of several custom made aluminium panels to spice things up. Although these panels are attached to the chassis and various PC parts, I do not consider this project a full on mod but I rather see this as a clean watercooled PC build.
Now that the first phase of this project has been completed, I will rebuild this PC into a true mod project which will include all of the existing custom aluminium panels plus lots of mods to the existing outside panels and more. I plan to cut a design in to the 4mm thick aluminium panels that cover all 4 sides of the H-Tower enclosure, create a truly unique custom watercooling loop, paint several parts from red to gold, and hopefully many others too. Once this next phase of the mod project begins, I shall name the project "Phase Two" hahaha ;)
Modding such an extreme enclosure such as the H-Tower definitely has it's drawbacks. Yes the chassis is already balls off the wall, batshit crazy awesome as it is... And this fact certainly makes my job much harder as I just don't want to add more crazy just because I can. I wish to find a balance with my mod design for this enclosure which will compliment the overall design and not just make a mess of things. I want my design to reinforce the design features that In Win have created with the H-Tower while maintaining my design style that I have kept throughout almost of my previous projects.
There will be so many challenges with Phase Two considering the extreme nature of the enclosure and it's moving parts but I can tackle this project with a good 4 years of PC case modding experience, and the help of the community!
Gå till Phase One på sweclockers.com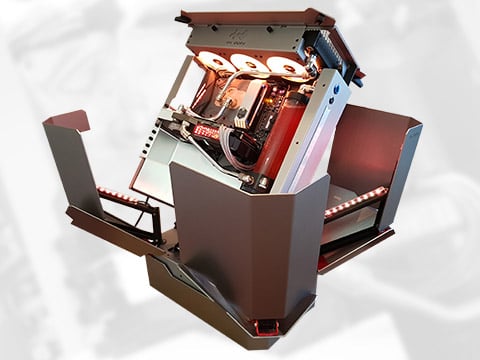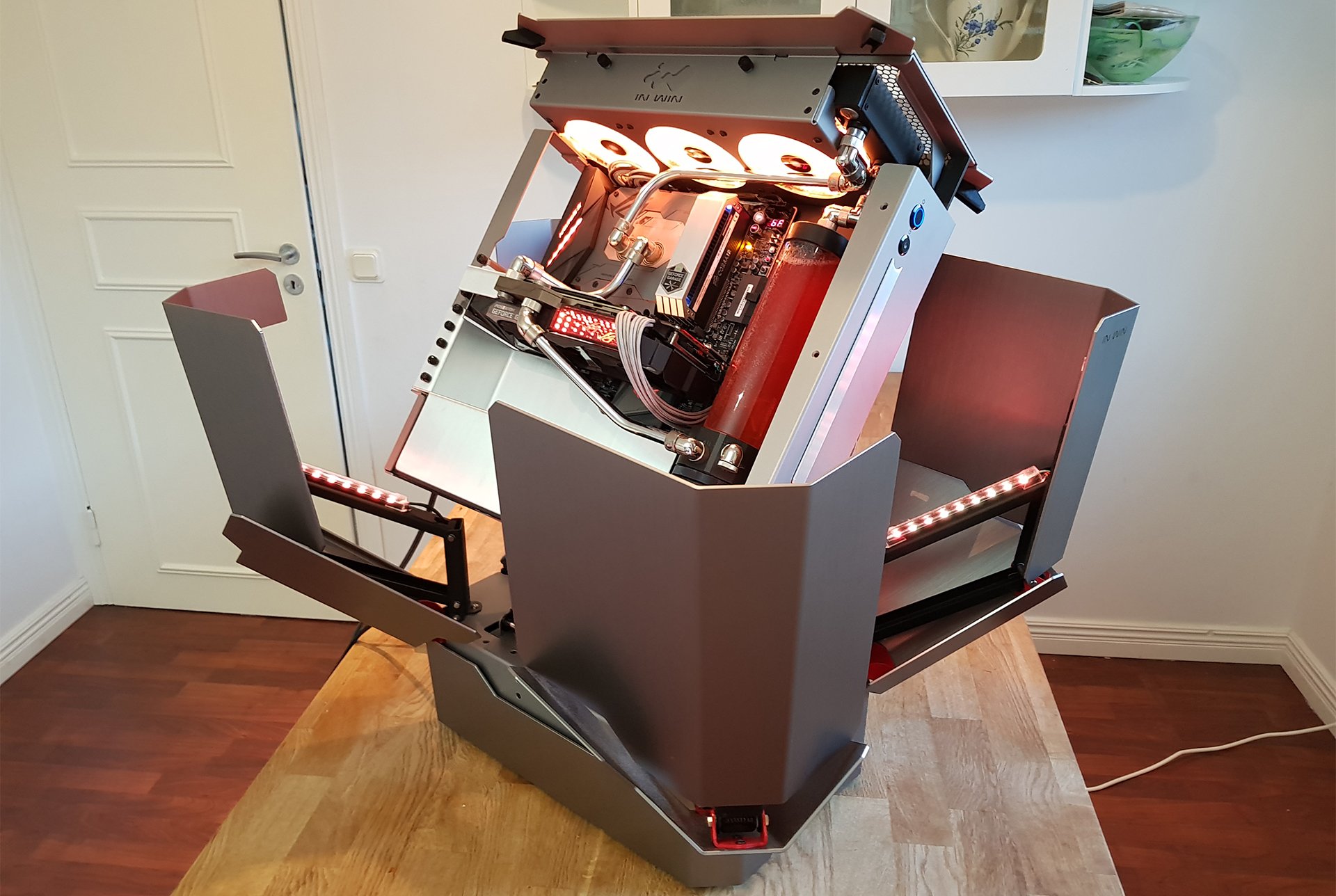 ---
Justin förklarar komponentvalen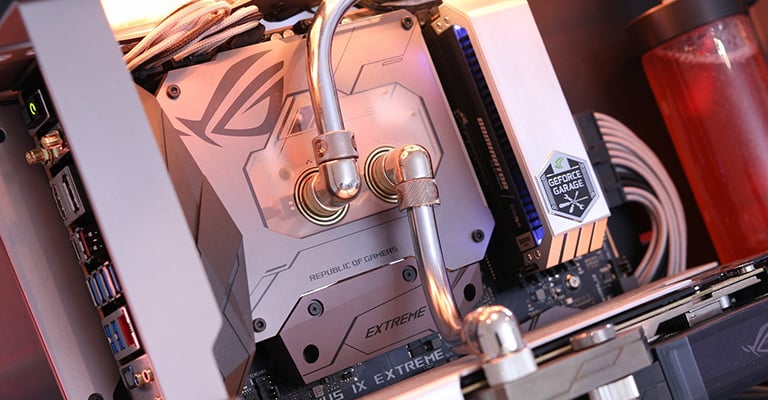 Moderkort
ASUS Maximus IX Rampage Z270 - I chose this motherboard for the awesome look of the included full cover waterblock which helps cool the VRM and CPU. Having one of the m.2 slots water cooled is also a great bonus too.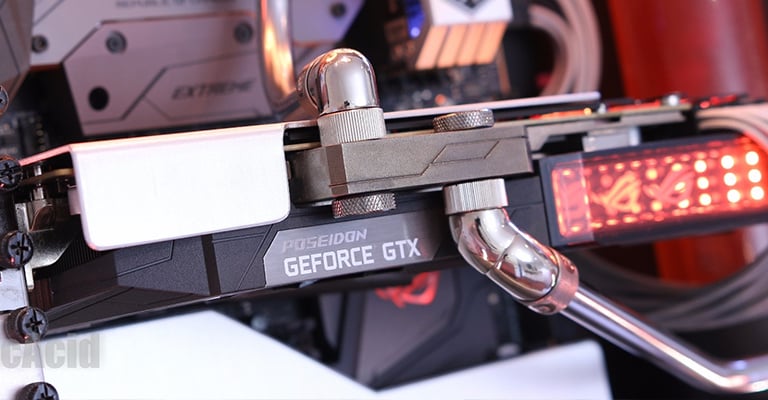 Grafikkort
ASUS GeForce GTX1080Ti Poseidon - I loved the beefy look of this GPU the first time I played eyes on it. It makes a perfect match with the motherboard too.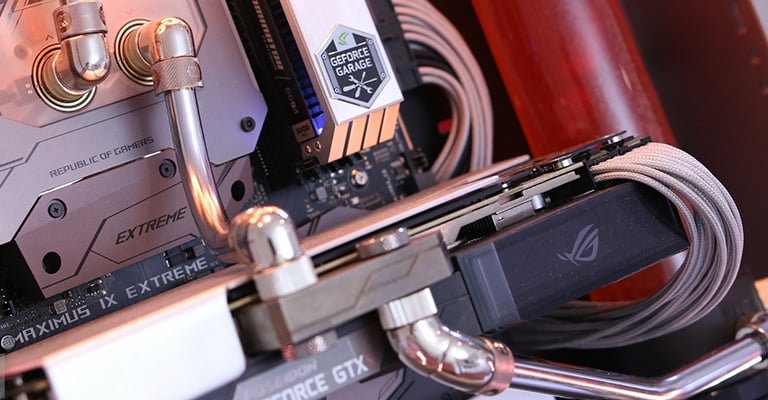 Processor
Corsair Dominator Platinum 32GB - Still the best looking RAM on the market. 32GBs would be more than enough for film/photo editing and gaming as well.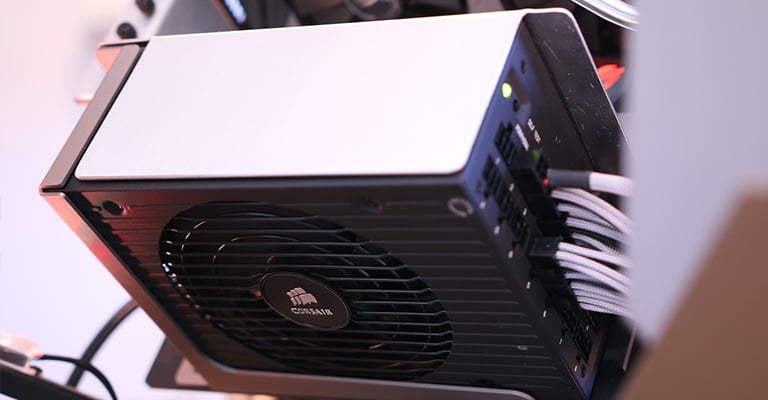 Nätaggregat
Corsair AX1200i - This PSU is overkill for this system but I wanted the extra wattage in case f I add another GTX1080Ti Poseidon in the future. It is great quality as well and is always my first choice in PSU.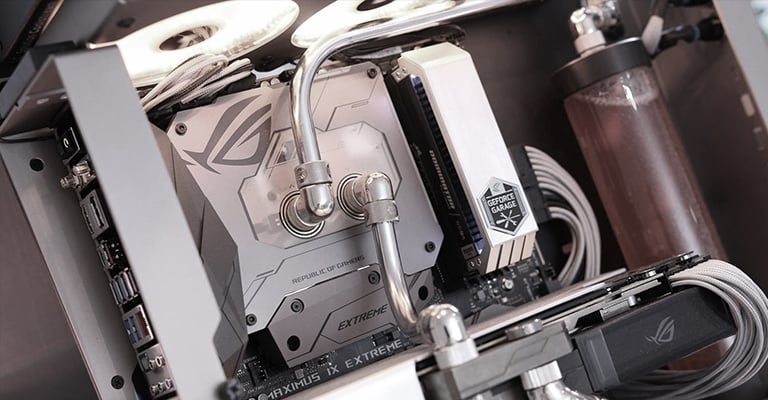 Lagring
Samsung Pro 960 512GB m.2 SSD - I picked 2 of these m.2 SSDs to install directly on the motherboard so I could easily RAID them if I wanted. Also really handy to have m.2 since I do not have to worry about supplying them with power from the PSU or connecting them up to the motherboard with SATA data cables. These are also the fastest and most reliable NVMe m.2 on the market.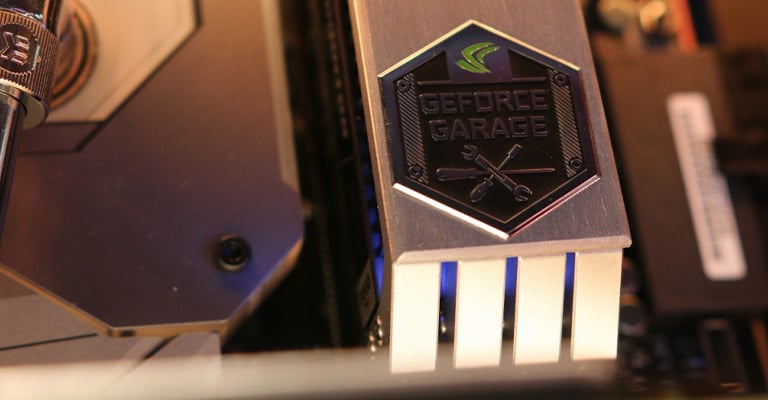 RAM
Corsair Dominator Platinum 32GB - Still the best looking RAM on the market. 32GBs would be more than enough for film/photo editing and gaming as well.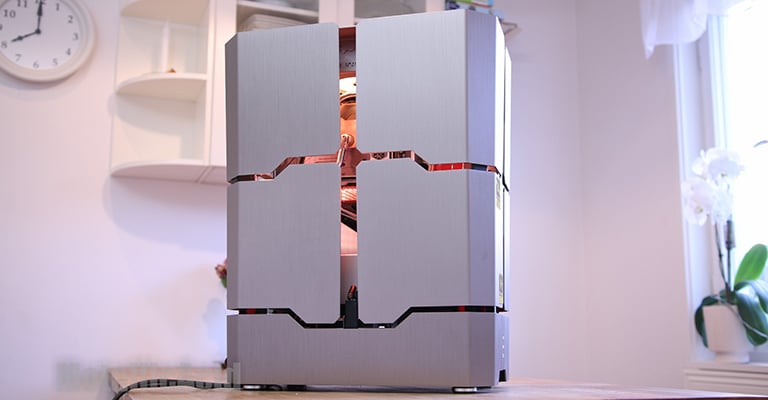 Datorlåda
In Win H-Tower - This is the craziest chassis on the market. I could not pass up the challenge of modding this beast!
---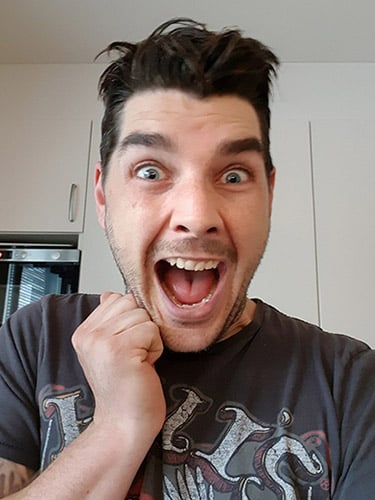 | | |
| --- | --- |
| Name: | Justin Ohlsen |
| Modder name: | MetallicAcid |
| Born: | Australia |
| Lives: | Stockholm, Sweden |
| Occupation: | Professional modder, Light/Sound technician |
| Hobbies: | PC building, film making, PC gaming |
Sociala medier
MetallicAcid
---
Justin svarar på frågor!
What first drew you to modding?
I was first inspired to try my hand at PC modding after I discovered a thread on a website that was exclusively dedicated to PSU cable management and water cooling. I was amazed by the creativity and cleanliness that many of those gorgeous PC's were displaying. My first attemp at PC modding to to sleeve my PSU cables, and create a bunch of backlit light panels made from aluminium. Here is the result of my first full on mod project.
Did you ever hit a blunder?
Yes, of course! Every mod has a few. One time I was modding the Corsair Carbide Air 240 chassis. I went ahead and ordered the hardware but didn't do much research on the chassis itself. After the PC components came in, I started to test fit everything. Once I put in my aftermarket Strix 970 from ASUS, I realised that the GPU was too tall and could not be installed inside the chassis because of there not being enough clearance between the motherboard and the windows side panel.
So to solve the problem but also keep the same GPU, I modded the chassis and also creates a new GPU bracket stand so that I could mount the GPU inside the chassis so that the GPU fans faced the side panel, making the GPU be proudly on display. A solid win in my opinion as it looked amazing when finished!
Having done as many projects as you have, what part of modding is most exciting and challenging nowadays?
It is true that I have built a good number of PC's these last few years. The biggest challenge that I have is thinking of new and exciting design concepts for each new project. I have always tried something new with each project, and have tried to do something that has not been done before. The most exciting part of all of this is to inspire people to try modding for the first time on their own PC! It gives me great satisfaction when I read an email, PM or social media comment from someone who says that they already have or will try modding their PC for the first time because of a certain project that I have created and shared.
Another challenge is always trying to keep the balance in the project so as to make sure that I am not just cramming any and all mod ideas into the one project. I feel that it is very important to keep the mod simple and stylish, so I am always trying to achieve a balance so that the project doesn't look too "over the top" or too busy.
What materials and techniques are the most fun?
I love to use as much aluminium as I can. It has become what I like to think as my trademark, my "thing" that makes people recognise my projects from the sea of other PC mod projects. I enjoy using hand tools as much as possible as it gives me great satisfaction when I look back over those projects and I can remember the hard work and time that had gone into making that particular piece.
If you had all the time, money, material and machines in the world – what sort of mod would you do?
IF I had the opportunity to build anything that I wanted, then I would go ahead and make myself a full on modding workshop/studio where people could come and learn how to mod, hang out with other like-minded people and talk about modding and other PC related stuff. All of the custom PC's that are made in the workshop could be used as LAN PC's in the same building, so you could hang out at this place and LAN on these custom beasts :)