ASUS GeForce RTX 3070 Ti 8GB TUF GAMING OC
Detta är en LHR-modell ("Lite Hash Rate," eller "LHR,") som inte lämpar sig för mining.
BUILT TUF
The TUF Gaming GeForce RTX™ 3070 Ti has been stripped down and built back up to provide more robust power and cooling. A new all-metal shroud houses three powerful axial-tech fans that utilize durable dual ball fan bearings. Fan rotation has been optimized for reduced turbulence, and a stop mode brings all three fans to a halt at low temps. Beneath, independent heatsinks for the GPU and memory keep thermals under tight control. Additional features, including TUF components, Auto-Extreme Technology, a new GPU bracket, and a backplate vent make the TUF a proper powerhouse. For builders looking for a new "old faithful", this card has your back.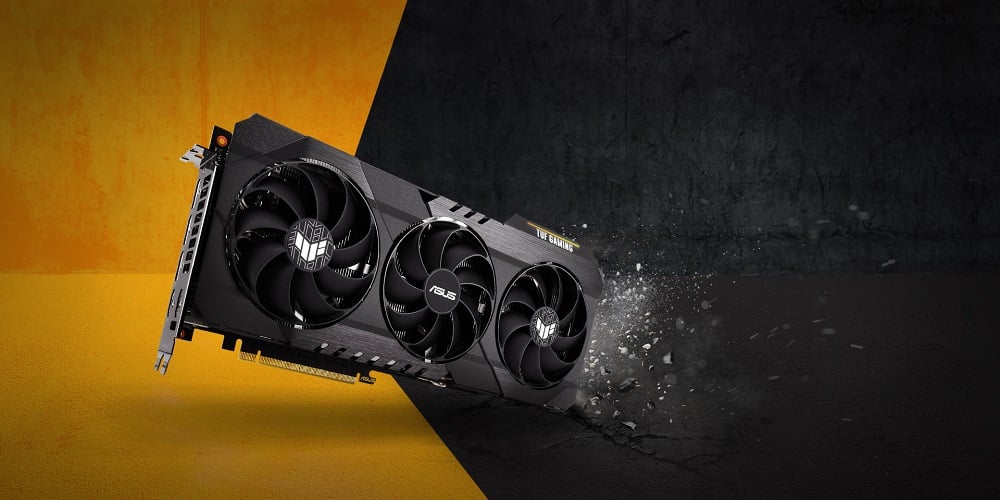 NVIDIA Ampere Streaming Multiprocessors: The building blocks for the world's fastest, most efficient GPUs, the all-new Ampere SM brings 2X the FP32 throughput and improved power efficiency.
2nd Generation RT Cores: Experience 2X the throughput of 1st gen RT Cores, plus concurrent RT and shading for a whole new level of ray tracing performance.
3rd Generation Tensor Cores: Get up to 2X the throughput with structural sparsity and advanced AI algorithms such as DLSS. These cores deliver a massive boost in game performance and all-new AI capabilities.
Axial-tech fan design has been newly tuned with a reversed central fan direction for less turbulence.
Dual ball fan bearings can last up to twice as long as sleeve bearing designs.
Military-grade capacitors and other TUF components enhance durability and performance.
GPU Tweak II provides intuitive performance tweaking, thermal controls, and system monitoring.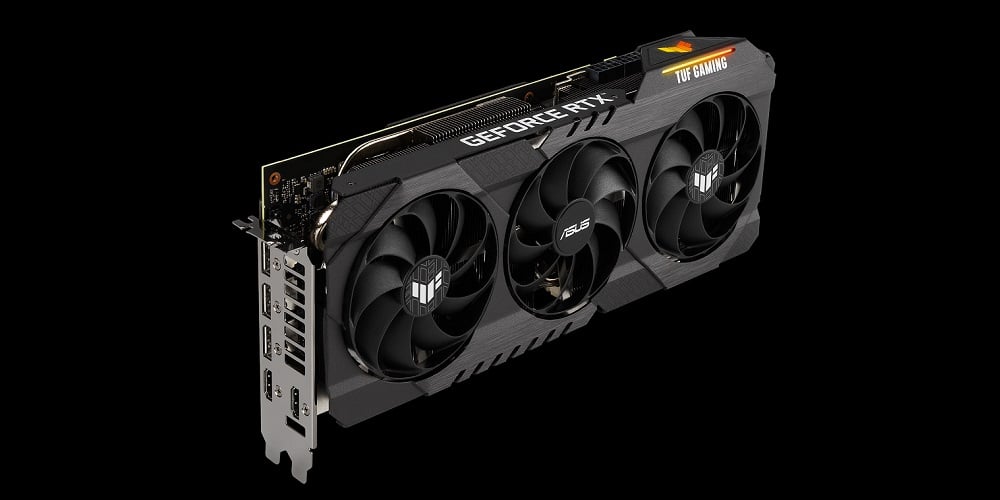 Axial-tech Upgrades
TUF Gaming cards leverage our tried-and-true Axial-tech fan design, with three fans working in tandem to satisfy the thermal demands of NVIDIA's new high-octane design. The fans rely on dual ball fan bearings to ensure consistent performance and increased longevity compared to sleeve bearings and other bearing types.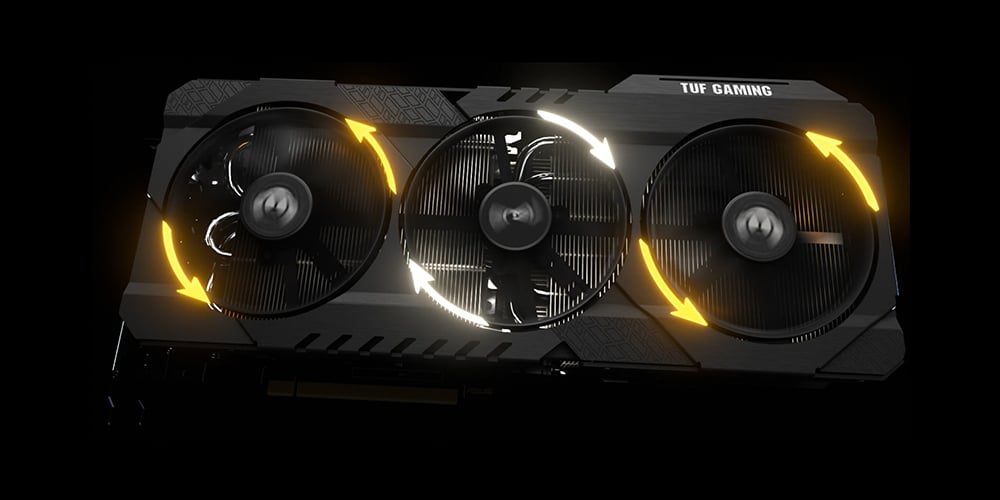 New Directions
The two side fans spin counterclockwise to reduce turbulence. And to eliminate unnecessary noise, a stop mode halts all fans when the GPU temp falls below 50 degrees and power consumption is low.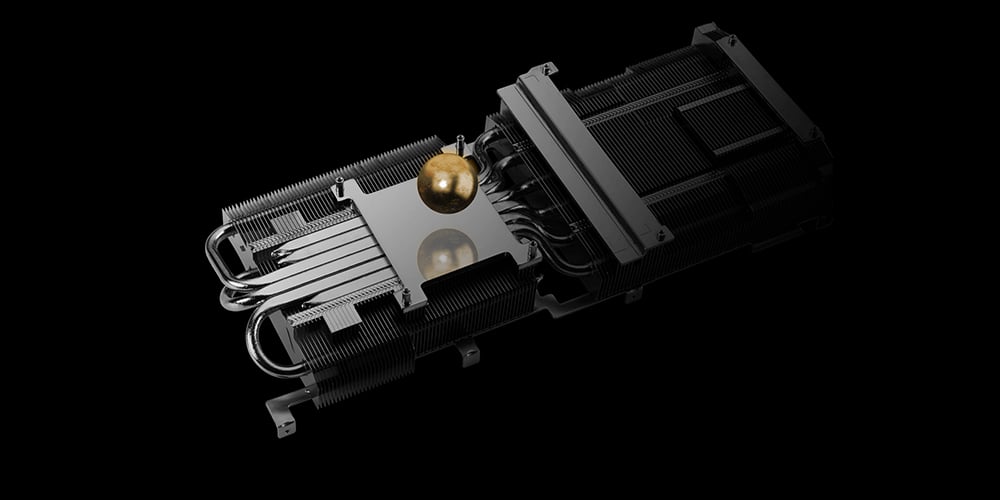 MaxContact
To get heat into the heatsink array efficiently, so that it can be whisked away by the powerful Axial-tech fans, we use a manufacturing process that improves the surface smoothness of the heatspreader at the microscopic level. The extra flatness allows for better contact with the die, helping to enhance thermal transfer.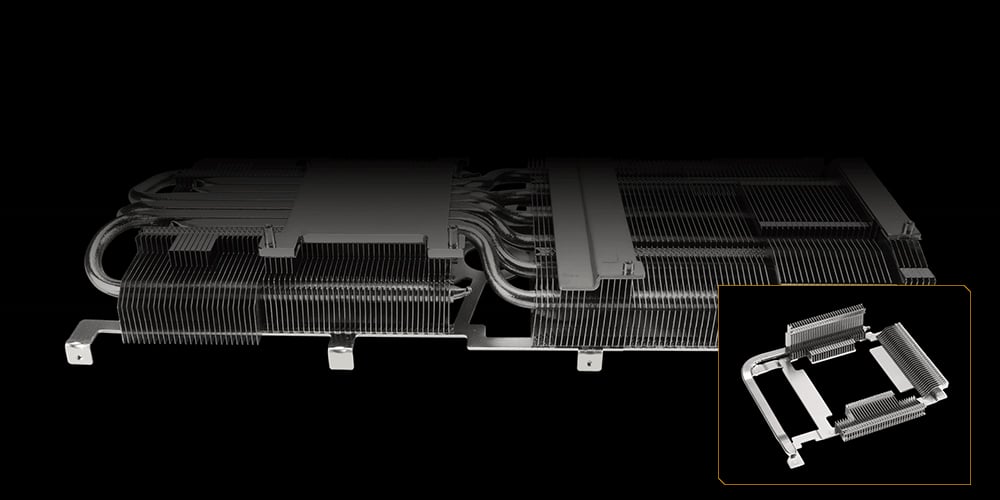 2.7-slot Design
The heat spreader draws heat up into heatpipes that carry it through a fin stack that fills most of the card's large, 2.7-slot footprint. This generation of TUF Gaming graphics cards also feature a dedicated heatsink for VRAM to keep temperatures well under maximum operating specs.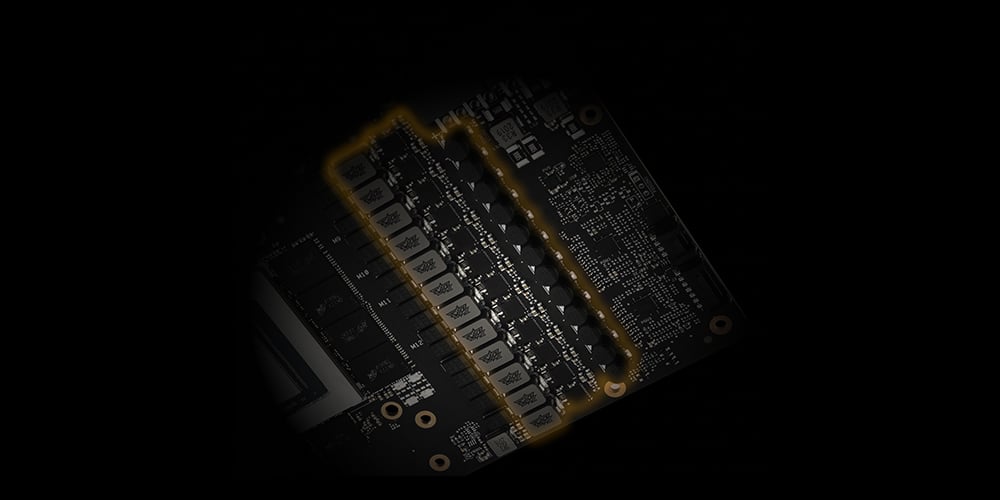 TUF Components
Components are selected for TUF Gaming graphics cards based on their durability and performance. In addition to top-shelf chokes and MOSFETs, capacitors that meet military-grade certification make the TUF stand tall amongst the competition. The components are soldered to the PCB using our advanced Auto-Extreme automated manufacturing process. Smooth joints on the rear of the PCB and the elimination of human errors ensure each graphics card meets our rigorous specifications. Finally, to ensure flawless performance when it counts, the cards are subjected to a grueling 144-hour validation trial.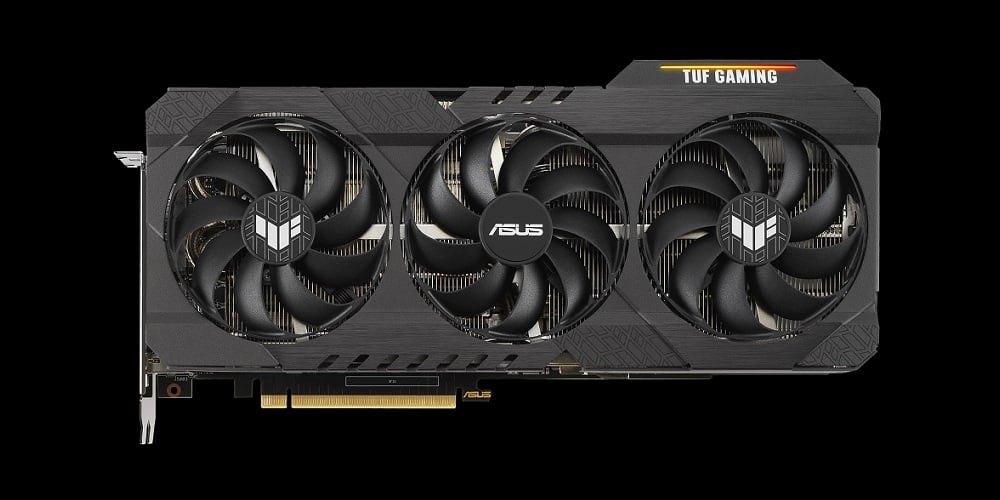 Fresh Shroud
An all-aluminum shroud adds robust protection to TUF Gaming graphics cards and a no-nonsense industrial design and grayscale colorway fits into any build with ease.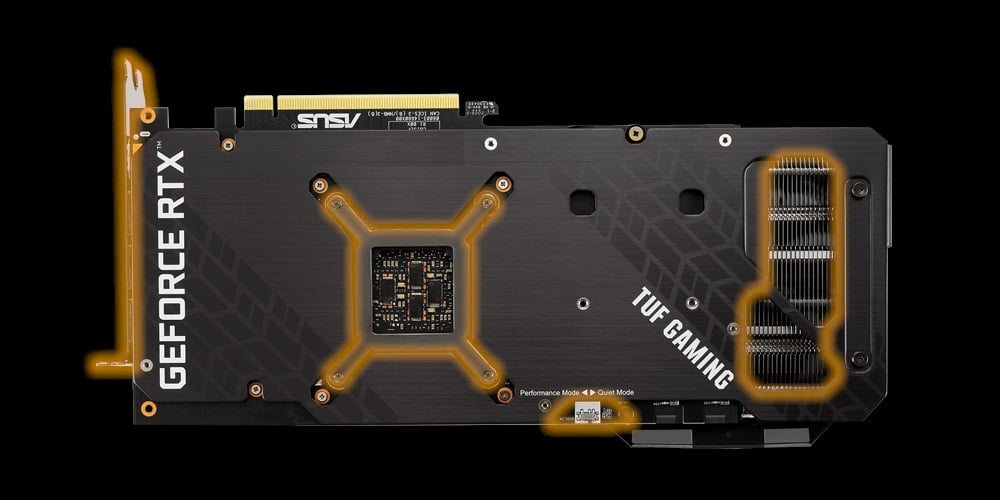 It's Cooler Out Back
The underside of the card reveals a host of improvements. Most of the rear is swathed in a protective metal backplate that prominently features a wide vent. The vent allows hot air to escape towards chassis exhaust fans instead of being recycled back into the cooler. Beneath the GPU, a bracket provides consistent mounting pressure between the die and heat spreader. Stainless steel is used for the I/O bracket to protect ports and provide a more secure mount. A conveniently placed Dual Bios switch allows customization of the card's default performance profile without software.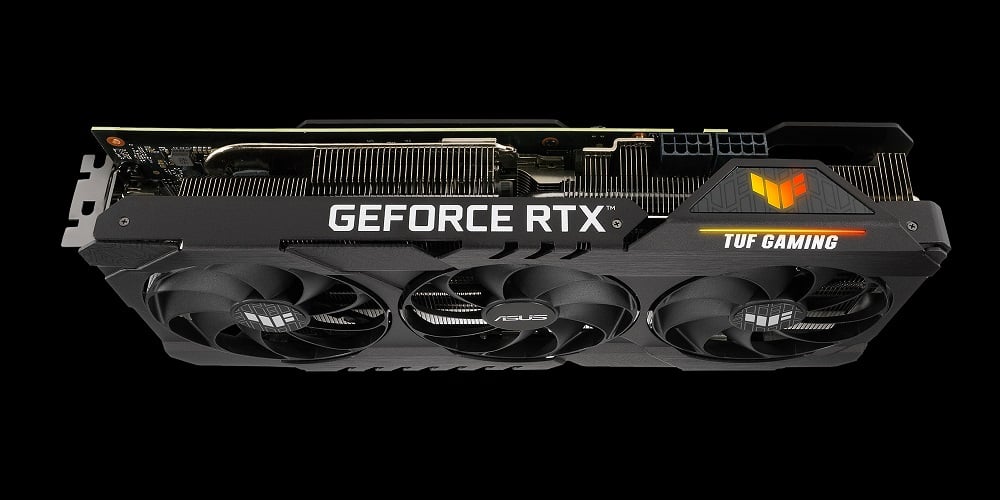 Functional Front
The top-side RGB element can be customized to display a range of aesthetic and functional effects and also synced with other ASUS components to enable uniform lighting. To fulfill the power demands of the GeForce RTX 3070 Ti, two 8-pin connectors are present, along with onboard LEDs that light up if PSU PCIe power connectors are not plugged in correctly.
Static
Always on
Breathing
Fades in & out
Strobing
Flashes on & off

Color Cycle
Fades between the colors of rainbow
Rainbow
Various color
Starry Night
A display that mimic the nighttime sky
Smart
Changes color with CPU/ GPU load or temperature
Music
Pulses to the beat of your music
Adaptive Color
Matches color to a selected region on your screen
Dark
Lighting is turned off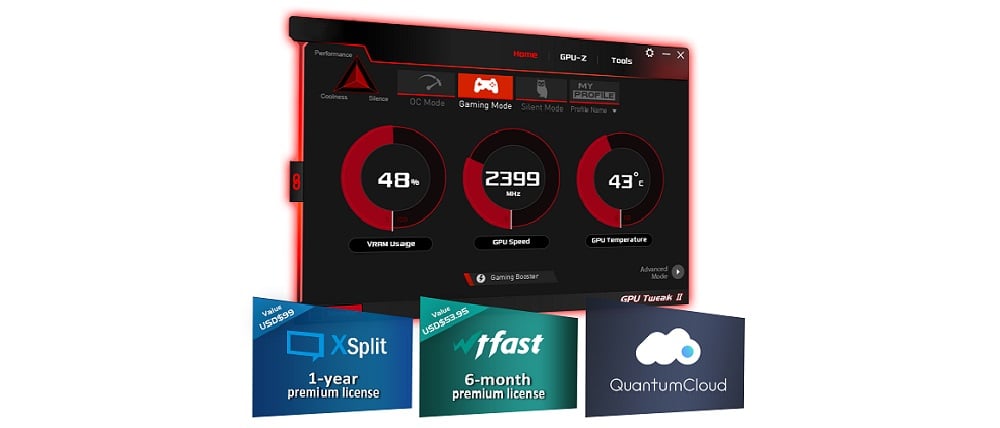 Software Suite
Harness the hardware
Hardware isn't the only area where research and development is being applied to take things to the next level. The ROG team has been building up the GPU Tweak II software utility to offer unique features along with the standard monitoring, tweaking, and tuning you expect. Like all of our premium graphics cards, the TUF Gaming GeForce RTX 3070 Ti is bundled with XSplit streaming software and wtfast's Gamers Private Network to make sure that your online experience is the best it can be.
NVIDIA AMPERE ARCHITECTURE

The all-new NVIDIA Ampere architecture delivers the ultimate play, featuring advanced 2nd generation Ray Tracing Cores and 3rd generation Tensor Cores with greater throughput.

RTX. IT'S ON.

Experience today's biggest blockbusters like never before with the visual fidelity of real-time ray tracing and the ultimate performance of AI-powered DLSS.

DLSS AI ACCELERATION

NVIDIA DLSS is groundbreaking AI rendering that boosts frame rates with uncompromised image quality using the dedicated AI processing Tensor Cores on GeForce RTX. This gives you the performance headroom to crank up settings and resolutions for an incredible visual experience. The AI revolution has come to gaming.
Specifikationer
GPU
GPU-tillverkare

Nvidia

Modell

GeForce RTX 3070 Ti

Turbofrekvens

1 815 MHz

Streamprocessorer / pipes

6 144 st
Minne
Typ

GDDR6X

Hastighet

19 000 MHz

Bussbredd

256 bitar
Utgångar
HDMI-utgång

Ja, (2st, 2.1)

DisplayPort-utgång

Ja, (3st, 1.4a)

Max. antal skärmar

4 st
Ström
Strömanslutning

2 st 8-pin

Strömförbrukning

350 W
Dimensioner
Längd

299.9 mm

Bredd

51.7 mm

Höjd

126.9 mm
Övrigt
SLI

Nej

CrossFire

Nej

VR-Ready

Ja

DirectX

12

NVIDIA GeForce Experience

Ja

Gränssnitt

PCI Express 4.0, 16x

Garanti

3 år
Artikelnummer
Paketbredd

23.3 cm

Pakethöjd

8.8 cm

Paketlängd

40.5 cm

Paketvikt

1.964 kg

Vårt ArtNr

5412802

Tillverkarens ArtNr

90YV0GY0-M0NA00

Upplagd

2022-03-21 16:28
Frågor och svar
Här kan du ställa frågor om produktens funktioner och kompabilitet. Vi uppmanar vårt kunniga community att bidra med sin kunskap genom att svara på frågorna.
Om du är i behov av personlig rådgivning alternativt har generella frågor om exempelvis pris, leveranstid etc. så är du istället varmt välkommen att kontakta vår kundservice.
Vi förbehåller oss rätten till att ta bort ej relevanta frågor.
Det finns ännu inga frågor på den här produkten
---
ASUS GeForce RTX 3070 Ti 8GB TUF GAMING OC
Detta är en LHR-modell ("Lite Hash Rate," eller "LHR,") som inte lämpar sig för mining.