Logitech G Farm Sim Controller
Ta med dig traktorn hem - slipp leran
Komplett paket till farming simulator-spel med ratt, sidopanel samt pedaler. Tack vare inbyggt stöd för flera spel kan du koppla in och börja spela - inga drivrutiner behövs.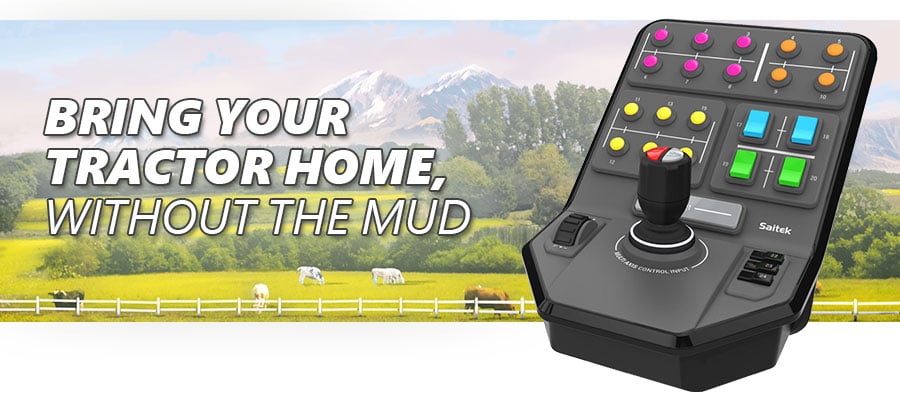 Complete Farm Management
Logitech G and GIANTS Software teamed up to create this bumper crop of immersive gear made to enhance the excitement of reaping the rewards of your virtual farm.
---
Closer to Reality
The Farm Sim bundle is the latest member of Logitech G's impressive stable of specialized gear. Standard keyboard controls or wheels designed for a totally different genre of games may get the job done, but our equipment does the job right. Care for your farm with these realistic tools to gain a deep-rooted sense of immersion and enjoyment, all while driving vehicles and operating attachments with a finer degree of control.
Perfect Partners
Farming Simulator is the blue ribbon of agricultural simulation video games. And Logitech G rules the roost when it comes to hardware designed to enhance simulation games. Using feedback from you, the Farm Sim community, Logitech G and GIANTS Software partnered to build custom hardware that adds to the thrill of cultivating land, nurturing livestock, and selling goods to make your farm a rewarding venture.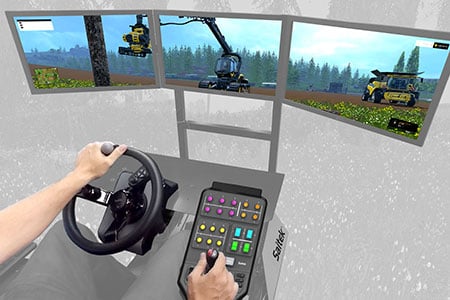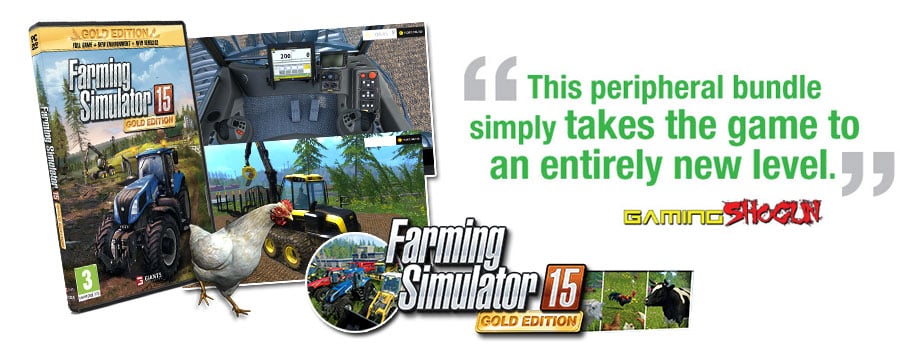 ---

Go for a Spin
You won't find a wheel that's closer to the real thing. We sat inside farming machinery and came up with a checklist of essentials. We then applied those essentials to our wheel. 900 degrees of rotation in both directions? Check. Properly tilted? Check. Horn? Yup. Center-sprung? Of course! Put down your gamepad, racing wheel, or mouse and keyboard, and wrap your hands around a wheel that truly simulates what's inside real-life farming machines.
Get a Grip
Yet another item on our list of must-haves for true farming simulation: a turn knob. How else can you turn the wheel while enjoying your beverage of choice? Better yet, your free hand can operate the controls on our supplementary, separately sold Vehicle Side Panel. The knob is removable – go ahead and place it wherever it's most convenient for you.

Enjoy Your Farm's Fresh Air
As good as it feels to cruise your farm in heavy machinery, sometimes you just have to get your hands dirty. Those in-game situations call for sticks and buttons, and the wheel has a cornucopia of them. Twin analog sticks, each with a push-down button, are ideal for moving your character and controlling your camera. Plus, the 4-way hat switches near each stick provide eight more buttons at your fingertips.
Two ergonomic, trigger-like buttons reside on the back. This built-in control scheme gives you precision command of your farmer, and everything is programmable from within the game. Whether using your chainsaw, walking into the barn, or simply going for a sunset stroll to admire your crops, all controls are at the ready.
---
Stop and Go
Rather than take the easy route by adding gas and brake functions to the wheel, we chose to enhance immersion by creating a set of dedicated pedals. Angular travel is set to 20 degrees to give you utmost control. And, the pedals connect to the wheel via 6ft/1.8m cable. That means the whole kit occupies only one USB port on your gaming rig.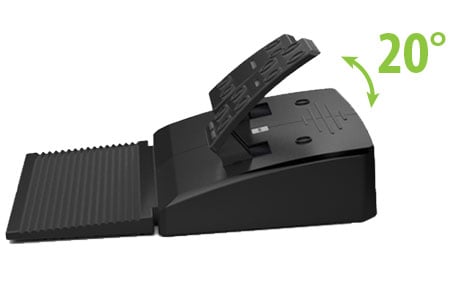 ---
Organize the Forest
The Side Panel's realistic front loader control stick gives you the sensation of true control over heavy machinery. Now you can easily engage tree harvesters, cranes, chainsaws, chippers, trailers, and more. What better way to take advantage of Forestry – the game's new economic branch?
Top-Notch Crane Control
The loader stick controls vertical, horizontal, and twist axes, while a mode switch on top of the stick doubles those commands giving you six axes to operate. Even better still, a button right next to the mode switch coincides with an oversized button that's also within easy reach. Program both buttons to easily change/open/close your attachments. For example, control your crane's base with the stick, press a button to switch to moving the crane arm with the stick, and then press another button to open and close the crane claw. All while keeping your hand on the control stick. You can even add a secondary Side Panel and gain even more control by using two sticks!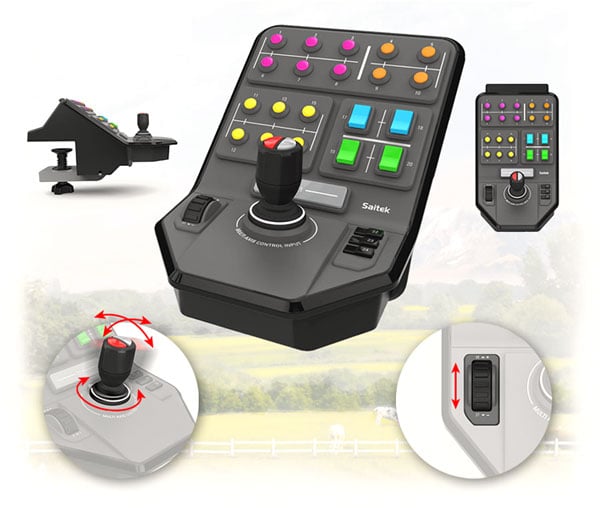 ---
Cruise the Farm
Put your vehicle on autopilot to make life on the homestead even simpler. Use the built-in dial to speed up your tractor or slow down your bulldozer. Once your pace is set, you're free to concentrate on more important tasks like deciding on who you're going to invite to the County Fair.
Over 25 Programmable Buttons Put You in Total Control of Your Farm
Loader Stick with Up/Down/Left/Right/Twist Action and Mode Button that Doubles Control Axes – Ideal for Logging
"Set and Forget" Cruise Control Speed Dial lets You Focus on Your Vehicle's Attachments
Mod-Friendly Design is Ready to Control Your Custom Vehicles
Durable Clamp Attaches Vehicle Side Panel to Your Gaming Desk
---
Room to Grow
GIANTS Software is constantly adding vehicles and features to enhance your farm sim experience. The game contains over 140 authentic vehicles and tools, with even more in the works. Logitech G has made sure the Vehicle Side Panel is ready to handle any of the game's vehicles and tools. And courtesy of 25 programmable buttons and switches, the side panel is essentially future-proof. The solidly built Vehicle Side Panel is an essential tool for helping you grow bumper crops for years to come.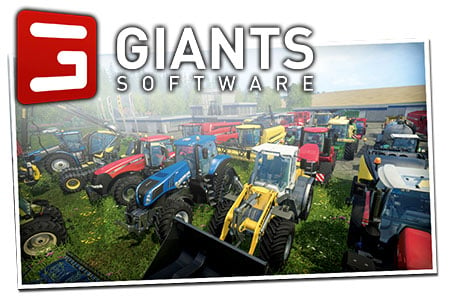 ---
Product Includes:
Heavy Equipment Wheel with 6.6ft/2m USB Connector Cable
Gas and Brake Pedal Set with 6ft/1.8m USB Connector Cable
Side Panel Control Deck with 6.6ft/2m USB Connector Cable
Specifikationer
Kategori

Övrigt

Typ

Tillbehör

Kompatibilitet

PC, Mac

Garanti

2 år
Artikelnummer
Paketbredd

40.3 cm

Pakethöjd

36 cm

Paketlängd

53.1 cm

Paketvikt

5.151 kg

Vårt ArtNr

6600063

Tillverkarens ArtNr

945-000062

Upplagd

2017-01-13 15:00

Tillverkarens produktsida
Frågor och svar
Här kan du ställa frågor om produktens funktioner och kompabilitet. Vi uppmanar vårt kunniga community att bidra med sin kunskap genom att svara på frågorna.
Om du är i behov av personlig rådgivning alternativt har generella frågor om exempelvis pris, leveranstid etc. så är du istället varmt välkommen att kontakta vår kundservice.
Vi förbehåller oss rätten till att ta bort ej relevanta frågor.
Om man köper till en extra sido-panel funkar båda eller bara en?
Hej Elis! Det ska enligt Logitech gå bra att köra 2st paneler för att till exempel kunna använda 2st joysticks samtidigt i spelet. Vänligen
Är det här 2: generationen/utgåvan? Den med Logitech loggan nedanför joysticken på panelen?
Hej, Detta är 2:a generationen, ja :) Vänligen
---
Logitech G Farm Sim Controller
Ta med dig traktorn hem - slipp leran
Komplett paket till farming simulator-spel med ratt, sidopanel samt pedaler. Tack vare inbyggt stöd för flera spel kan du koppla in och börja spela - inga drivrutiner behövs.
Recensioner
Jag ville egentligen ha bara sido panelen, men den kostade bara 200 kr. mer för hela paketet. Panelen är mycket bra, lite plastig men mycket användbar även i Euro Truck Simulator och American Truck Simulator och det är ett måste i Farming simulator förstås. Ratten känns också plastig men ändå helt OK.